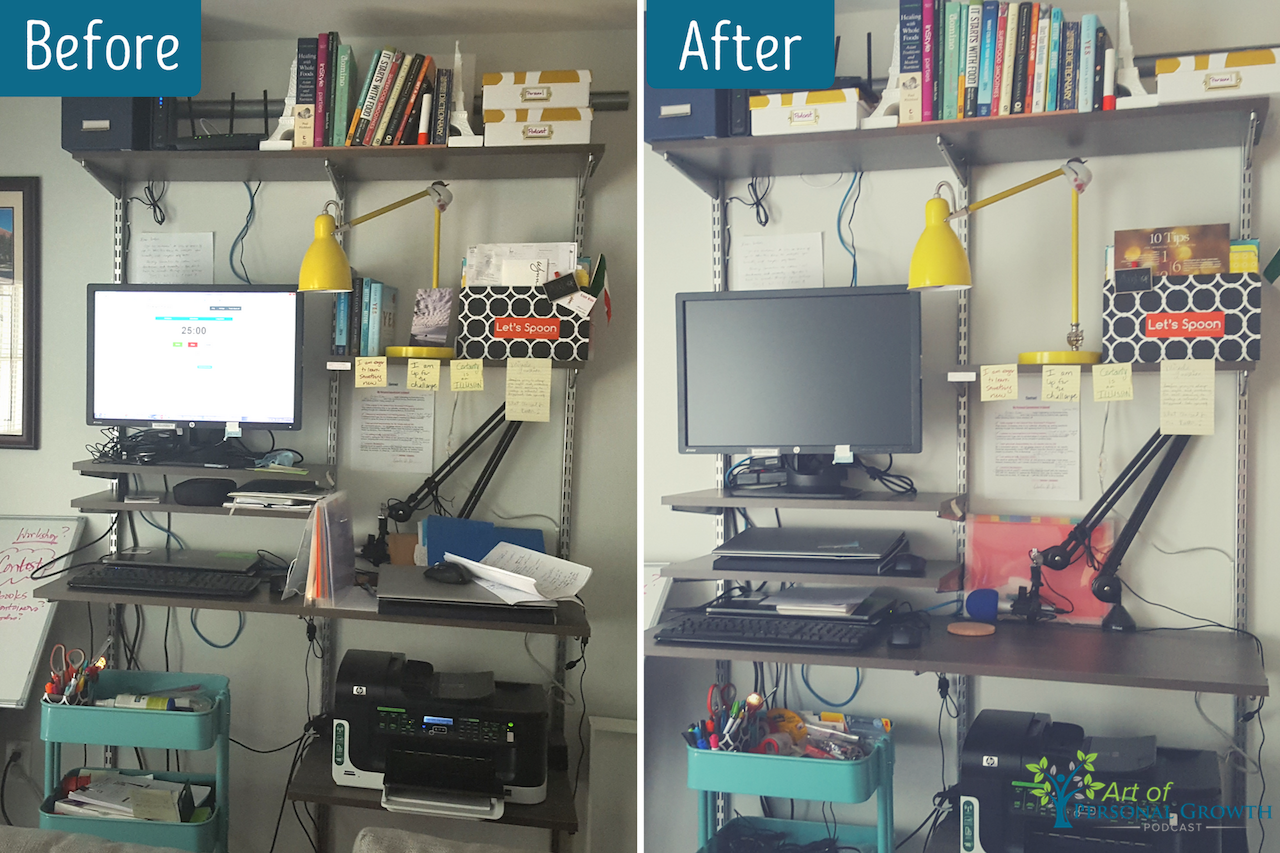 Podcast: Play in new window | Download | Embed
Subscribe: Apple Podcasts | Android | Stitcher | RSS | Learn How to Subscribe
I'm not the only one, right?
In this week's episode, we're continuing our August theme of organizing and decluttering your life by looking at the research and methods you can use to take control of the untidy parts of your home (and life) starting NOW. Everything from the KonMari method to becoming the CEO of Y.O.U. – this episode has it all!
Now, if you ever see my desk at work, you might be surprised to learn my desk at home is so untidy – people often tell me they wonder how long I've been working there, because my desk is almost too tidy! In my home office though, you can find a deluge of papers, cute office supplies, and clutter… at least, you would have until this week!
Yes, it really is cleaner – just look at the woodgrain on the desk! I had forgotten it was woodgrain at all!
The most important thing I want you to take away from this week's episode is realizing that the things you choose to own, and the way you organize your home, directly relate to the way you live your life.
This week's episode is a perfect way to get you started making room for what matters in your life – at the end of the day, whether you call that "getting organized" or "decluttering" isn't as important as when you realize that having a tidy space gives you room to focus on what truly matters to you.
To help you get started de-cluttering
Here are some great resources from this week's episode:
1. The FREE 54-page Decluttering Workbook from Kelly Jayne McCann, The Organizing Maven.
2. Clean Up Your Desk: Tips to Help Your Rethink Your Work Space by Rikki Endsley in Huffington Post – this quick article has four awesome steps you can use to help keep yourself going in the cleaning process! 3. How to Tidy the KonMari Way by Lavendaire on YouTube – this 7-minute video gives you a quick run through of The Life-Changing Magic of Tidying Up by Marie Kondo. Definitely a must-watch if you want to really de-clutter and tidy up your life!
4. My Ultimate Tidying-Up Playlist, by yours truly – I used these four songs during my Pomodoro-based desk tidying session. Feel free to add them to your favorite playlist!
HandClap – Fitz and the Tantrums
Rumor Has It – Adele
Kiss This – The Struts (it's my summer anthem!)
Dog Days Are Over – Florence and the Machine
For me, spending time using these resources to declutter my home office taught me to clear away the distractions (that often take the form of clutter) and make room for the the next phase of my life (receiving new coaching clients). Are you ready to make more room for the important things in your life?
When you finish tidying your desk, send me a photo! You can tag it #decluttering or #TAOPG34 on social media, and I'll find it!
Also don't forget – you can download the amazing 54-page FREE Decluttering Workbook from Kelly Jayne McCann, The Organizing Maven, right here:
Click Here for Free Decluttering Workbook
See you next week!